In the previous installment of this series we discussed the components that are needed to run a self-hosted email marketing platform. In this article we will go over some of the criteria to consider when researching a provider to self-host an email marketing automation software and explore some possible providers.
Types of Hosting
The providers' hosting options will usually fall into three major categories. They are shared hosting, bare metal/dedicated servers, and Virtual Private Servers (VPS).
In the case of Interspire Email Marketer, using a shared service hosting package will usually not work for a number of reasons such as the resources made available may be severely restricted, the underlying shared software may not meet the system requirements, or may simply violate the Terms of Service of a shared hosting plan.
On the other hand, unless one is running a relatively large email marketing operation, the costs of a dedicated bare metal server may not be justified to host the typical instance of Interspire Email Marketer.
Virtual Private Servers (VPS ) are designed to provide a balance between flexibility, performance, features, and pricing. Virtual servers are usually provisioned on shared hardware and, by using modern virtualization techniques, give the illusion of a dedicated server. This results in an environment providing similar flexibility, control, and performance levels to a bare metal server while doing so at a significantly lower price point than that of a physical server.
Factors when choosing a VPS Provider
There are many VPS providers to choose from. Here are some of the factors to consider when choosing one to host your email marketing automation solution.
Can you send mail?
The first question to ask is whether the provider allows direct sending of email from the VPS, in other words is port 25 open? If you are using a dedicated sender as recommended then this is not an issue. However, if you are planning on sending mail directly, it goes without question that one must choose a provider that allows mail to be sent.
Most providers will disable port 25 by default to prevent spam from being sent from their servers. Some will open port 25 if requested, while others will not open it under any circumstances. By the nature of how reputation is built over time, there is the possibility that the providers that have port 25 may have IP addresses that have low reputation or may even potentially be black listed.
Clean IP Addresses
As hinted in the previous paragraph, the reputation of the IP address assigned to your VPS is one of the key factors in determining if your emails will be delivered to your recipients. Once again, this is a factor if you are not using a specialized email service provider. The addresses assigned to your VPS will most likely have been previously used on another VPS. You should check the reputation of the IP address before moving forward.
Reverse DNS Configuration
A number of specific DNS records are essential to email sending as they provide various methods for the recipients' systems to authenticate the sender of your emails, the emails themselves, and letting the recipients know that the emails are really coming from you.
One of those types of records are reverse DNS (rDNS) or Pointer (PTR) records. As the name implies, those records will map IP addresses back to names. Unlike other records such as SPF, DKIM and DMARC that are set with your DNS provider -which may or may not be the same as your hosting provider- PTR records are almost always set at/by the service provider. They should allow you to easily configure the reverse DNS Record for the IP address(es) assigned to your server, and ideally allow you to do so without an additional fee.
Scalability
As your newsletters, email marketing efforts, and other business activities are more and more successful, the capacity of your VPS should be able to grow with your success. Your provider should enable you to easily increase the resources allocated to your VPS over time without too many complications.
Backups
The ability to make backups and, more importantly, to easily restore is important to protect this critical pillar of your business. The backup options should be flexible and meet the preservation requirements of your business to continue to serve the needs of your customers.
Graphical User Interface (GUI)
The providers usually provide intuitive and easy to use graphical user interface to provision and configure the VPS you will be using. Activities such as setting up rDNS, backups, additional IP addresses as needed, possibly firewalls should be easily accessible and executed from within the environment supplied by the provider.
Customer Support
Although the installation of Interspire Email Marketer is relatively simple and its day-to-day maintenance requirements minimal, there will be times when contacting your provider's customer support will be necessary. Depending on your team's technical knowledge and the type of VPS service subscribed to, say between a managed or an un-managed service, the method and convenience of access to the customer support desk can be a factor. The providers may offer email, chat, phone-based, or a combination of the three to provide customer support. Choose one that will match your needs and expectations.
Datacenters
The physical location of a server's datacenter may have an impact as well. The impact can be both from the legal perspective and on how well the instance performs.
Depending on the jurisdiction that you operate from, it may be necessary to host your server in a jurisdiction that is compatible with the legal environment in which you are operating. (This is not legal advice; please consult a lawyer). For example, with the current state of the safe harbor agreements (or rather, lack thereof at the time of this writing) between the US and the European Union, it may be necessary to host your data on a European hosted server to help comply with GDPR's requirements.
From a performance perspective, it would not be ideal to host your services at a location requiring intercontinental transmissions say if your customers are primarily in Australia.
Security
With a VPS provider having strong security measures, you can better safeguard your data, mitigate hacking, DDoS attacks, and other nefarious activities. If you are using a managed VPS service, they will also keep your VPS updated and patched as necessary.
Most providers will offer free DDoS protection and SSL certificates. In addition to these, look for packages that allow for regular automatic backups as mentioned before, perform malware scanning, and offers firewall protection.
Operating Systems
You will have a wide range of operating system choices from VPS providers. Most hosting providers will offer a menu of Linux and Windows options, and you would need to check the compatibility of the option chosen against the server requirements of your self-hosted email marketing software. For example, although Interspire Email Marketer will run on Windows with a XAMP stack, the official requirements call for a Linux variant.
Pricing
Lastly, the pricing structure of the hosting packages is also a factor. Beyond the obvious that the price should meet your budget, you should look at the resources being offered in each of the pricing options presented by the hosting provider, and see that they are commensurate with the resources and other intangible services, such as customer support, that you are getting access to.
In addition, a provider that offers some form of trial, money-back guarantee, or no long-term contract commitment may ease your selection.
Sample VPS Provider Offerings
Now that you are aware of the factors to consider when selecting a VPS service, let's look at a few providers below in no particular order.
Liquid Web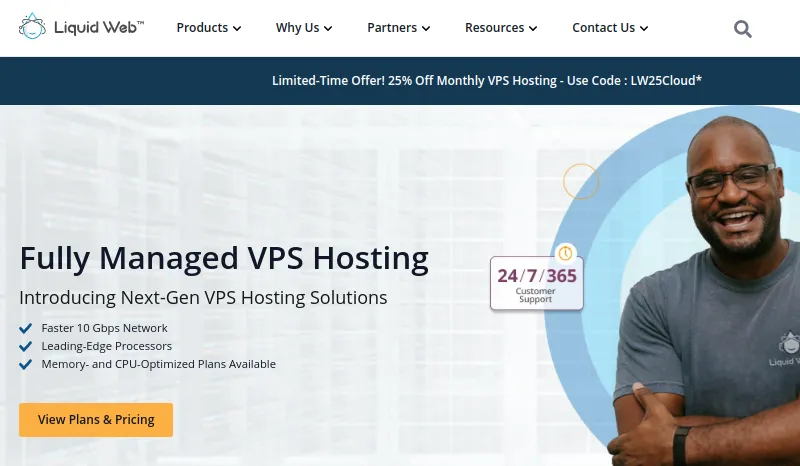 Liquid Web offers only managed VPS hosting. You will pay a small premium for their services, but if you want to focus more on your email marketing activities and worry less about maintenance, configuration and data security, using Liquid Web could be a sound choice. Well-known for their 24/7 Heroic Support (phone and chat) and 100% network uptime guarantee, you can keep most of your attention and efforts in growing your contact list and scaling your business. They have locations in the US and Europe.
Features: Integrated firewall, available with Plesk or cPanel, CloudFlare CDN, standard DDoS protection, root access, DNS, and dedicated IP address.
Pricing: Pricing depends on the OS you use and the payment plan you choose. For Linux, pricing starts at $25 per month for 2 years with inclusion of 2 vCPU cores, 40 GB SSD, and 10 TB bandwidth. For Windows, pricing starts at $65 per month for 2 years with inclusion of 4 vCPU Cores, 100 GB SSD, and 10 TB bandwidth.
Scala Hosting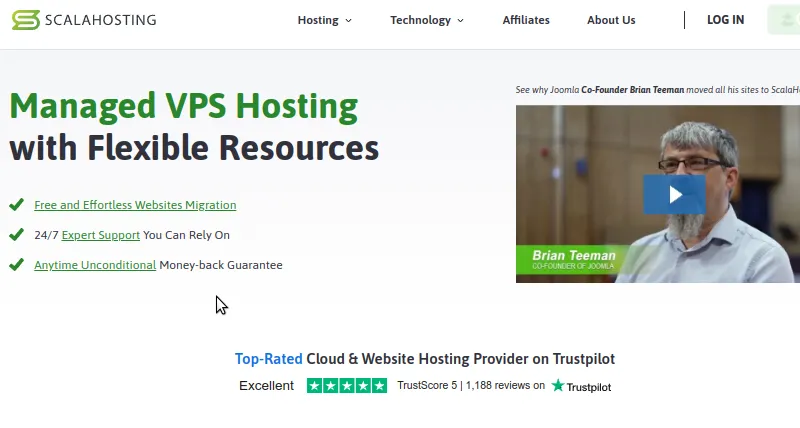 Scala Hosting is often included in many of the top 10 best hosting providers round-ups. They provide flexible VPS hosting plans, allowing you to either choose their managed VPS hosting or build your own cloud VPS. The choice will mostly be dependent on your budget, priorities and tech-expertise. You can try Scala Hosting's services first with their 30-day money-back guarantee. Their technical support is available 24/7 but through email only. They have native locations in the US and the EU and have additional presence through a partnership.
Features: Offers SPanel – an all-in-one hosting platform, DNS editor, daily backups, SShield, free SSL and CDN, and one-click installer.
Pricing: Scala's unmanaged plan "Build your Cloud" hosting's price starts at $49.95 per month which includes 2 CPU cores, 4GB RAM, and 50GB SSD space. Their managed VPS option starts at $29.95/month with unmetered bandwidth.
LunaNode

LunaNode is a VPS hosting provider based in Canada that offers its clients flexible and scalable KVM-powered virtual machines at a reasonable price. At the time of writing, their three data centers are located in Canada and France.
Features: Snapshots, private networks, floating IPs, load balancers, server monitoring, and DNS hosting. LunaNode's support is through email, ticket, and call.
Pricing: LunaNode's pricing is hourly-based and starts at $3.5 per month with 1GB RAM, 1 Virtual Core, 15GB SSD storage, and 1000GB Bandwidth.
IONOS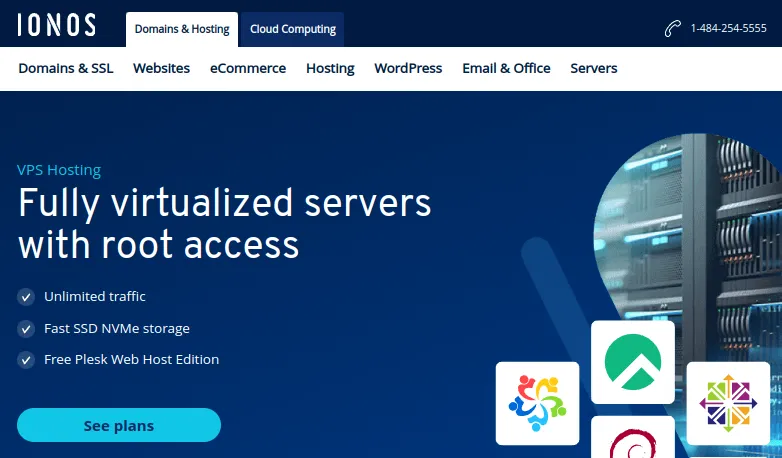 Formerly known as 1&1, IONOS is a hosting service that caters mostly to small and medium-sized businesses. They aim to provide assistance to business owners in scaling up. They do block port 25 by default but you can request to open it through a support request. They have a number of datacenter locations in the US and throughout Europe.
Features: DNS management, SSL certificate, firewall management, DDoS protection, anti-spam and anti-phishing. Their customer support is available 24/7 through email and call.
Pricing: Pricing for a VPS that can run Interspire Email Marketer starts with an introductory rate of $2 per month for 6 months ($7 thereafter) with 2 vCore CPU, 2GB RAM, and 80GB SSD.
Vultr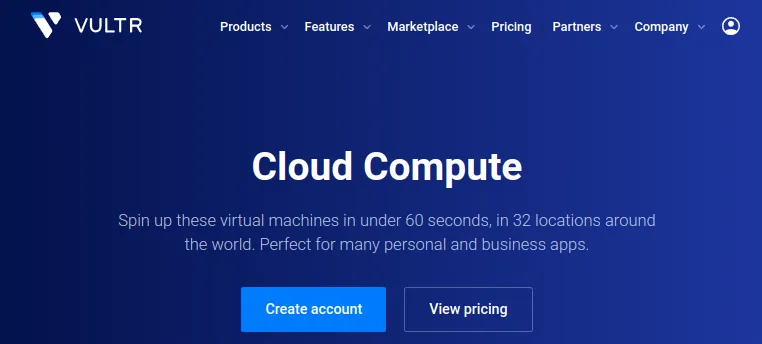 Vultr's VPS hosting utilizes their KVM (Kernel-based Virtual Machine) in all of their infrastructure, focusing their services on security, reliability and scalability. With 26 datacenters worldwide, Vultr's hosting services are generally reliable. In addition, any concerns or inquiries can be easily searched up through their extensive resources.
Some email marketers could run into problems like blocked SMTP for new accounts, all you need to do is get in touch with their customer support via tickets or email. Other than this, Vultr is recommended to any self-hosted email marketer.
Features and Other Services: Flexible OS choices, Vultr firewall, DDoS protection, one-click apps, flexible networking, Kubernetes, and Bare Metal.
Pricing: Pricing is hourly based and starts at $0.004/hr or around $2.50/mo, with the inclusion of 0.5GB RAM, 10GB storage, and 0.50TB bandwidth. Other features or security measures can be customized to be included in your plan for additional fees.
Linode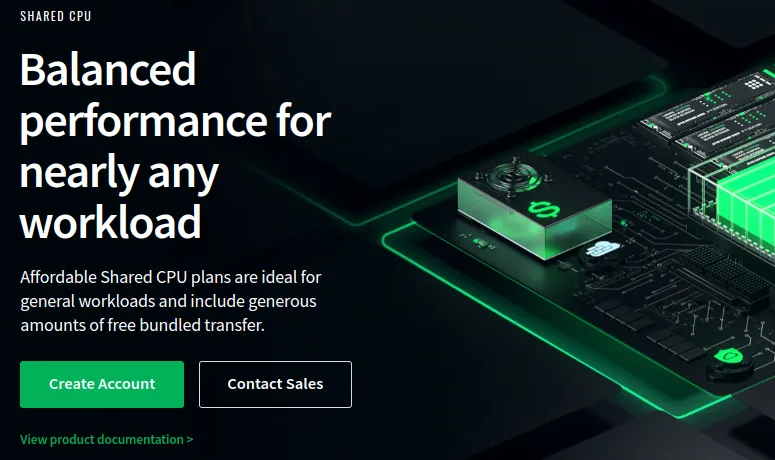 Linode is one of the most popular and solid hosting providers. Their offerings are varied and also include managed database instances for those looking for this type of service. Linode has a varied geographical footprint with 11 datacenters located throughout the world. Linode provides 24/7 customer support via email, chat and phone.
Features and Other Services: Free DDoS protection, free DNS manager, free cloud firewalls, auto backups.
Pricing: Linode's pricing is hourly based and starts at $0.015/hr or around $10/mo for a minimal configuration to run Interspire Email Marketer that includes 2GB of RAM, 50GB of storage, and 2TB of data transfer. The majority of features are included by default without cost, but you have to pay extra to add some features.
OVHcloud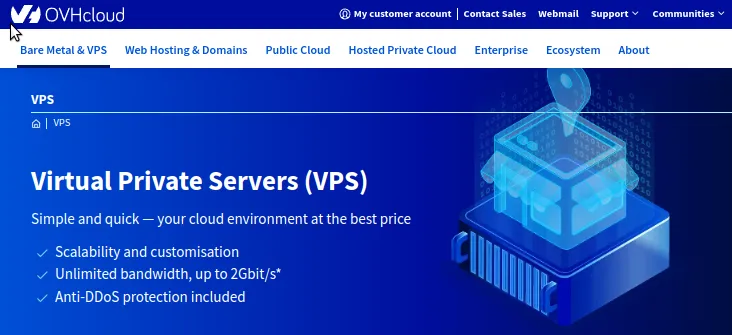 OVHcloud is known as a top European cloud hosting provider. They also have data centers all over the world including in Northern Africa (Tunis, Casablanca) and in the Asia-Pacific region (Singapore, Melbourne, Bangalore). In general, OVHcloud offers unlimited traffic except from datacenters in the Asia-Pacific region. Their VPS hosting plans can be completely customized. In addition, OVHcloud can assist in being GDPR compliant.
Features: An auto back-up option and snapshots, free DDoS protection, SSL gateway, DNSSEC for Cache Poisoning protection, scale all the way up to a bare metal offer.
Pricing: Pricing starts at $7 per month for 1vCore, 2GB RAM, and 40GB of storage. Other features such as failover IP, geolocated IP, and backs-ups can be provisioned for an additional cost.
Hetzner

Hetzner is a German hosting provider with datacenters in Germany, Finland and the USA. With its limited number of datacenters, Hetzner may be more appropriate for clients that are based in or near Germany. Most VPS providers offer different options for GUI, but Hetzner only offers their own system, konsoleH. Hetzner blocks port 25 for the first month or so and will open it upon request thereafter.
Features: DDoS protection, basic SSL certificate, back-ups access, anti-spam, virus scanner, and DNS administration.
Pricing: Price starts at around € 5 with € 8.32 one-time setup fee that includes 1vCPU, 2GB of RAM, 20GB of storage, and 20TB of traffic. They do not offer customized hosting plans per se but you can add other features and services for extra charges.
Hostinger

Hostinger offers inexpensive and easy to scale unmanaged server plans with a user-friendly web hosting control panel. Their datacenters are located in Lithuania, the Netherlands, Singapore, and the USA. All their VPS services are based on OVZ virtualization technology – Linux-based. If you need Windows, Hostinger VPSs will not work for you.
Features: Automated weekly backups or snapshot tool and instant OS deployment. 24/7 customer support via chat.
Pricing: Hostinger's VPS plans start at $12.99 a month with 2 vCPUs, 2GB RAM, 40GB of storage, and 2TB of bandwidth. If you sign up for a multi-year contract you can benefit from their lowest price which is $5 per month, a saving of up to 62% off.
Amazon EC2 (Amazon Elastic Compute Cloud)

Amazon EC2 is a service under the Amazon Web Services (AWS) umbrella that offers extensive and customizable plans which they refer to as instances. They currently have over 300 instance types that vary according to business needs and workload requirements. If you are looking into a highly scalable VPS provider, Amazon EC2 could be right for you. They also provide numerous third-party software, and they support both Windows and Linux servers as well as managed database amongst a plethora of other services.
Features: Auto-scaling, elastic load balancing, enhanced networking, built-in firewall, and bare metal.
Pricing: EC2 pricing depends on the instance and the region you have chosen. Since one of their services is focused on customizing, pricing differs for each user. Additional payment is required for features such as auto-scaling and others. The EC2 instance pricing includes 62,000 SES emails you can use to send your email campaigns.
Conclusion
In this article we went over some of the criteria to consider when researching a provider to self-host email marketing automation software such as Interspire. Many different options are available and we have explored some of the offerings in the virtual private server space which offers an excellent balance for a wide array of needs.
In the next article, we will explore if one should use a 3rd-party SMTP provider in their email marketing platform setup.