Choosing between a cloud-based email marketing solution or a self-hosted downloadable software can be a challenge as each has its own strengths and weaknesses. Some of the factors to consider when deciding between the two options are flexibility, reliability, privacy, and cost.
This is the first article of a series in which we will explore:
How to decide when to self-host or use a SaaS for email marketing automation
How to choose a Virtual Private Server provider to host the software
Determine if you should use a 3rd-party SMTP provider as part of your self-hosted email marketing stack.
| Cloud Email Marketing Service a.k.a SaaS | Self-Hosted Download Email Marketing Software |
| --- | --- |
| Restricted customization | Flexibility for customization |
| Lack of control | Enhanced control over operations |
| Updates and maintenance are handled by service provider | Responsible for updates and maintenance |
| No installation necessary | Additional time and effort for installation |
| Prone to vendor lock-in | Less prone to vendor lock-in |
| Higher risk of getting delivery issues | Lower risk of having delivery issues |
| Monthly charges with possible additional fees | Cost-effective and usually offered for a one-time payment |
Software as a Service (SaaS)
The Software as a Service (SaaS) solution is a managed solution maintained by the service provider, which entails a method of providing email marketing software over the Internet as a service. The user will then receive the service for a usage-based pricing. You will have access to the program and its maintenance will not be your responsibility.
The Advantages of SaaS
Users Do Not Handle Updates and Maintenance
The process of upgrading and maintaining software might be challenging for some users. Another advantage of SaaS is that users do not have to handle these. The service provider is responsible for upgrading and upkeeping the software and hardware. The most recent software version is always available for the client to use.
Ease of Use And Set-up
Cloud-based software is often quicker to start using since it has already been installed and set up.
The Disadvantages of SaaS
Restricted Customization
Customization is often restricted with SaaS products. The features that are available, such as statistics, reports, etc. are limited to what the SaaS platform provides. You also cannot modify the software code to make changes or add your own custom features as dictated by your business needs. Basically, any system or software hosted as a SaaS offers limited customization and cannot be owned or modified by any means.
There are some cloud-based solutions that offer some personalization but it will likely be part of a higher pricing tier. Personalizing your emails' footer details or photos, as well as white labeling, are a few examples. The software may offer personalization but the customization possibilities will usually be extremely limited.
Lack Of Control
The service provider manages the server; this relieves the company from the need to manage its own servers. Effectively you are using a service. Although this can be convenient, it comes at the cost of losing much control and handing over operation and relying on the third party.
The safety and security of your data, as well as the compliance to the regulations your firm may be subject to will mostly rely on the security measures of the SaaS. For some industries, there are distinct sets of privacy or security compliance requirements which a SaaS platform may not be able to satisfy. If these requirements need to be updated, you will either have to wait for the service provider to do so or find another that can comply with them.
Prone To Vendor Lock-In
Your email campaigns, autoresponders, contacts and statistics can be quite difficult to export, which makes it that much harder to switch services down the road if you choose to do so.
High-risk Of Getting Blacklisted
You share email servers with potentially hundreds or even thousands of other users who might send spam messages through them. This could result in low deliverability and a higher probability of your email not being delivered.
Monthly and Other Additional Fees
The startup cost of a cloud email marketing solution may be lower, but whether you send email campaigns or not, you are required to pay every month that you are subscribed to their service. SaaS' pricing models are usually usage-based, the more you use their service, the higher the charges. We will examine this aspect more in depth later in this article.
Self-Hosting
The alternative to using a SaaS platform is self-hosting, in which you install and administer email marketing software on your own servers. The much higher operational control over the software and the possibility to have it customized to meet the demands of your company more than makes up for the potential extra responsibilities.
The Advantages Of Self-Hosting
Flexibility For Customization
Some self-hosted applications include the source code allowing the application to be completely customized to suit your needs and even build your own custom feature using the add-ons framework. In addition to the built-in customizations, white label capabilities may be available with the software.
Freedom To Use Alternative Tools
An email marketing platform usually includes built-in reporting tools. But since your data is stored on your own databases, you can opt to use your organization's preferred business intelligence and reporting tools and create your own custom reports to get deeper insights into your campaigns.
Enhanced Level Of Control Over All The Operations
As opposed to SaaS solutions, you are responsible for the server such as maintaining the system uptime, performing routine software upgrades, security fixes, and performance tweaking. This in turn allows enterprises for a much higher level of control. The user can control and operate the system in line with the firm's data confidentiality policies, company's privacy policies, security standards, regulatory requirements.
Higher levels of customization and enhanced levels of control allow an organization to react more quickly to their changing environment.
Less Prone to Vendor Lock-In
All of your data is stored on your own database servers. This allows you to easily move your data around if the need arises.You have complete access to all the data from email campaigns, autoresponders, contacts, and statistics.
Deliverability and Reputation Management
Since you are installing software on your own server or VPS, only you or your team are using it so there is no need to worry about other users that may be sending spam messages to reduce your reputation and deliverability rates.
Cost-Effective
The majority of self-hosted solutions such as Interspire Email Marketer are purchased as a one-time payment. They may be a higher initial investment but there usually are no monthly charges, per contact fees, or per email fees. You can grow your lists as big as you like without incurring higher costs. As discussed later, the long term costs are usually lower than those of a SaaS-based solution.
The Disadvantages Of Self-Hosting
Self-Hosting Comes With Greater Responsibility
Since you are operating the product without the help of a third party, many of the burdens of operating the platform are shifted to you. Self-hosting does require some upkeep, patches, and upgrade installations. You also must have a backup strategy to mitigate potential data loss. However, a well-maintained system can run for years without hiccups.
Initial Setting Up May Take More Time And Effort
In comparison to a cloud-based solution, a self-hosted marketing solution may require more time and effort in initially setting up the program. You can opt to have it professionally installed but it will likely involve an additional fee.
Self-hosting with Interspire Email Marketer
Cost Comparison Scenario
A cloud based email marketing solution may at first sound like a good option for small businesses looking to keep costs low. But their costs can add up quickly compared to a self-hosted solution. Here's a simple example with a growing contact list for a small business over 12 months:
| Month | New Contacts Added to List | Total Contacts in List |
| --- | --- | --- |
| January | 163 | 163 |
| February | 351 | 514 |
| March | 565 | 1079 |
| April | 709 | 1788 |
| May | 1177 | 2965 |
| June | 2445 | 5410 |
| July | 2897 | 8307 |
| August | 3020 | 11327 |
| September | 4200 | 15527 |
| October | 3987 | 19514 |
| November | 4012 | 23526 |
| December | 6332 | 29858 |
Let's now look at how Interspire Email Marketer stacks up against two different SaaS-based email marketing services. If we plot the total cost over 12 months to maintain the list above, we end up with a chart that looks like this: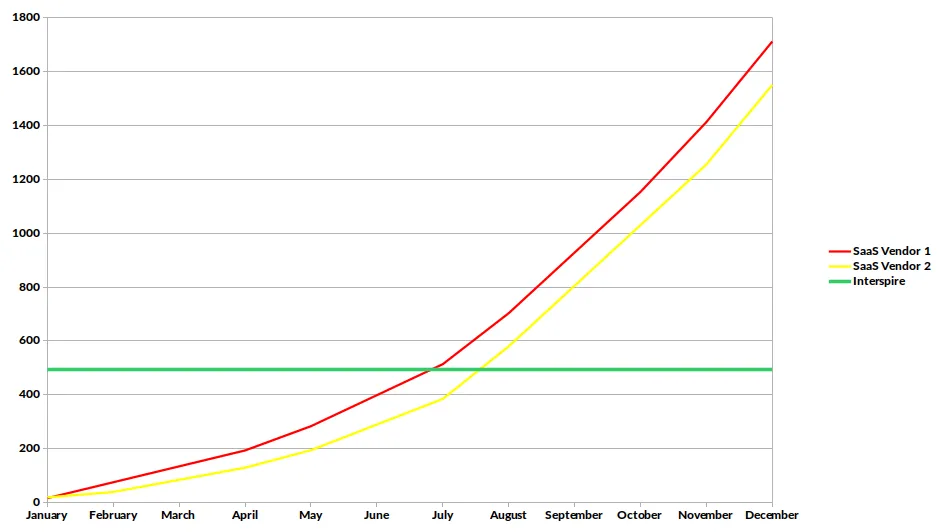 (1) Prices retrieved from the respective web sites of two SaaS platforms on January 24, 2022.
Why Should You Be Penalized for Growing a Successful List?
As you can see from the chart above, we don't penalize you for growing a successful list. Interspire Email Marketer is a single payment for a lifetime(2) license. You don't have to worry about monthly fees or list size restrictions. Grow your list to its full potential with an all-inclusive email marketing solution flexible enough to accommodate any business. Let our email marketing software help you create professional emails, manage your contacts, and send out newsletters to your audience with ease.
The first thing that strikes you about Interspire Email Marketer is that it's a bargain. Really. Prior to installing the first of many Interspire Email Marketer sites, we had been using some of the hosted solutions with per email costs. The math was very easy.
Simon Darby - DarbyId.com
(2) For the version at the time of purchase
What if I'm not a technical person or don't have an IT team?
Self-hosted email automation systems may require more maintenance and expertise than SaaS tools, however, Interspire Email Marketer is designed to be easy to use and you don't need any programming knowledge to use it. The software can be installed on the vast majority of the Virtual Private Server (VPS) provided by the popular hosting companies. The installation process is simple and is intuitive enough for even relatively non-technical people. Alternatively, a member of our professional team can install the software for you if you would rather use that option.
I don't know what a mail server is or how to configure one.
If you are only sending a few hundred emails at a time then you don't need your own mail sender server – the one your hosting provider supplies will usually be fine. If you want to send more than a few thousand emails contact us and we can offer some recommendations on email delivery servers.
Can I get my subscribers into your software if I switch from a cloud hosted service?
Absolutely! You can import new subscribers into Interspire Email Marketer using the handy import wizard from the dashboard. All you need to do is upload an exported file with your subscriber details and it does the rest for you.
Conclusion
Most email marketing automation platforms come in one of two big flavors, SaaS and self-hosted. Choosing between one option or the other can be challenging. The above examination of the pros and cons of each type should give you the tools to make it easier for you to make a decision.
A SaaS option may at first glance appear to be more accessible and less expensive, but it does so at the cost of limited customization and lack of control. A self-hosted solution nowadays is not that incrementally more difficult to install and manage and will likely be significantly more cost effective in the long run while providing flexibility, customization, privacy, and control at the cost of assuming slightly more responsibilities. Explore the components needed to self-host an email marketing automation platform.
Take control of your email marketing efforts today and check Interspire Email Marketer out as a premier self-hosted email marketing automation solution.